If you're looking for a way to make your kitchen more comfortable, these kitchen bench ideas will lead you in the right direction. Regardless of your room size, there are ways to include extra seating in your decor. For example, if you have plenty of space you may want to designate an entire section of your kitchen as a cozy nook. Or else, benches also fit well tucked into a corner of the room.
I've collected a selection of ideas using different materials, styles, installations, and designs. You're sure to find a banquette that suits your space, or you might be inspired to make a decor statement by choosing an eye-catching option. Extra seating areas are always welcome in a kitchen, or you can integrate a bench into your existing furniture setup.
Bench Styles
Farmhouse
This classic farmhouse style is a great kitchen bench idea to keep your furniture contained. Swap out some single chairs for a long seat on one side of your kitchen table and the convivial atmosphere is sure to follow. Solid dark wood is a timeless look, and certainly easy to fit into most interiors. For availability, check at Furniture Depot.
Minimalist
These double kitchen benches form a minimalist nook – see image above. If you have the place to dedicate for a double bench and table, I recommend this idea. It's even more attractive if you happen to have windows along the wall as in the picture above. Furthermore, if you have natural light and quality materials, there's no need for extra decoration.
Bench Shapes
Curved
I love this cozy nook, curved to fit the size of the kitchen island. It's perfect for adding a round table, thanks to the extra space in the middle. If you're lucky and have plenty of windows in your kitchen, incorporate a curved bench next to one and I promise you might never get up! Designed by RDG Millwork.
If you like the idea of a curved banquette but don't have a spot by the window, there are plenty of other ways to integrate it into your decor. The bench above, designed by The BHID Group, UK, is very unique since it contours the end of the kitchen island, and it even has a table placed in front of it. Clearly, this space has lots of seating options.
Large U shape
If you have a spacious kitchen and want your table to be surrounded by a bench, this U shape idea pictured above is ideal. You can definitely fit many people around this table, and they will all be comfortable thanks to this cozy sitting area. I love that the island is built around the banquette so you have plenty of surfaces and everything is within easy access.
L shape
This stylish L shape kitchen bench idea shows how you can maximize seating around a table while leaving the surrounding space open. If you don't need to fit people on all sides of the table, an L shape seat is a great idea. When more people show up, just pull up a few chairs. The striking blue color matches the cabinets and islands, creating a streamlined look.
Installation Ideas
Along Island
If you already have a kitchen island and have sufficient space, a great idea is to add a bench along the length of it. This way you'll make use of the island from all sides, and you can keep the serving station close to the dining table.
Corner Window
Window corner kitchen bench ideas like the one pictured above show that even if you only have a small amount of space, you can still include a bench. Add a small square table and you're set. While you won't fit six people for dinner, this is definitely a dreamy spot to enjoy your morning coffee or an evening drink.
Window
This hip modern style is definitely at the top of my list. Industrial style windows on two sides and along the ceiling mean there's plenty of natural light in this kitchen nook. The wooden table and benches complement the natural presence of the outdoors.
Floating Bench
For a stylish and unique kitchen bench, take a cue from the picture above. A DIY floating seat perched on the wall is complemented by a round table and cute pillows. If you have an alcove in your room, think about turning it into a charming eye-catching oasis. To build one see this guide from instructables.com.
Long Window Seat
If a large set of windows is a focal point in your kitchen, you can add to the effect by creating a bench along the length. Set up your table with some chairs and every meal is sure to taste better surrounded by natural light and color.
Booth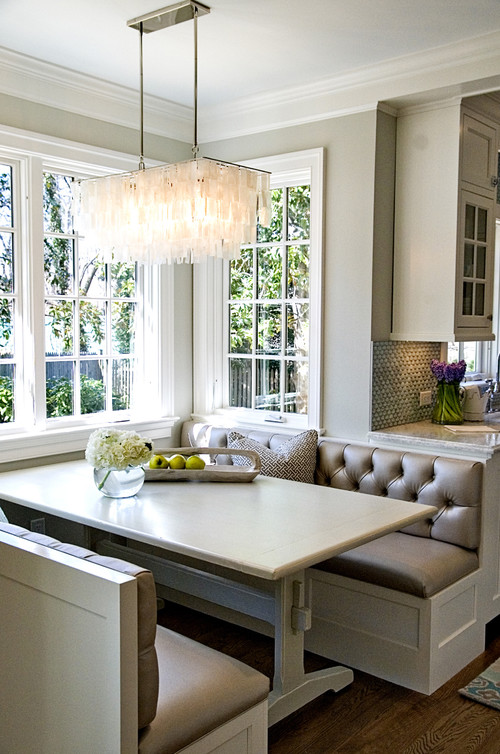 If you're always choosing the booth tables when you go out to eat, why not incorporate them into your own kitchen decor? I suggest opting for plump cushions for maximum comfort and placing the banquettes close to a window to enjoy natural light.
At Table
Kitchen benches don't only have to be solid fixtures — this bright space shows how you can include a bench instead of multiple chairs at your dining table. The look is sleek and streamlined, and it might even improve your posture! Add some cushions if you want extra padding or a pop of color, and the look is complete. 
Banquette with Bench
I like the combination of a bench built into the wall banquette style, paired with two chairs on the other side of the table. You'll be able to fit lots of people at this cozy kitchen table thanks to the seating space all around. Buy it here
Ideas for Bench Extras
Bookshelf
There are many bench ideas that take advantage of the space surrounding the fixture, and one of my favorites is the one pictured above. Install a bookcase above the seating unit and use it to display trinkets, large bowls, vases, frames, and whatever you want to have close at hand.
Drawer Storage
This bench idea is a fantastic way to increase storage space in your kitchen. Additionally, if you include a small surface on either side of the seat, this piece of furniture will come in handy. Fill the shelves up with your favorite cookbooks and store linens or dishware you use less frequently in the drawers beneath. Meanwhile, you'll have the perfect spot to lounge while you wait for your food to be ready. To install this bench in your home, inquire here.
Hideaway
I love this sleek modern kitchen island pictured above, complete with a hideaway bench. You can move the bench wherever you please or tuck it under the island to make more floor space. Use it while you sit at the island, or place it in whichever direction you want.
Materials for your Bench
Leather
Leather is a high-quality material that is easy to clean. Opt for a fun and flashy color like the red pictured above to make your kitchen bench the center of focus. Otherwise, leather in neutral tones certainly has a timeless appeal that complements other decors.
Tufted
For some added glam, go for a tufted style for your bench. Whether you choose cotton fabric, velvet, or leather, the look will be elegant and stylish. I recommend a tufted design if you want to add some extra flair to your overall decor. It's a simple detail that makes a huge difference.
Cushions
A large cushion that backs up against the wall paired with throw cushions is a great idea for cozy seating. First of all, you'll definitely be nice and comfortable with this setup. Also, the assortment of cushions adds a decorative element to the dining space.
Velvet
These gorgeous wall panels upholstered in velvet are made to order. If you're looking for a versatile kitchen bench, you'll love that you can choose the fabric, size, tufting style, etc. Etsy.
Wood
For a classic look that can be adapted to complement a number of decors, you can't go wrong with a wooden bench. Leave some of it bare and paint the rest white, or go for an all-wood look for a natural style. You can add extra cushions or blankets for additional comfort. Buy it at Ashley Furniture.